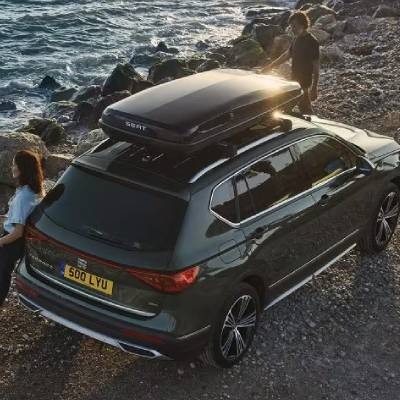 SEAT Car Accessories & Customisation Guide
Our Top SEAT Accessories & Customisations
Your SEAT car isn't just a mode of transport to get you from A to B. It's a chance to be yours in every aspect of the word. Personalising your car to your taste isn't just about accessorising. It's about creating a driving experience that matches what your life requires from a car.
In this article, we explore the world of SEAT accessories and customisation options to help you create your perfect car. When it comes to making your SEAT truly your own, the possibilities are endless. At Holders SEAT, we offer a wide range of accessories and customisation options that allow you to add a personal touch to your car's style, functionality and comfort
SEAT Exterior Accessories
A SEAT styling pack gives you the ability to infuse your car with your bit of your personality. For SEAT cars there are a wide range of accessories to choose from, you can create a perfect look for your car. SEAT Styling pack's have a range of options. These additions are not just for new cars but for used cars too. So, whether you want to update before you buy or refresh your current one. There's a styling pack option for you.
Depending on the model car you're choosing for, you can choose from exterior mirrors to alloy wheels. If you're looking for upgrades for the SEAT Ateca, then Emotion Red Alloys, gear nob, key cover and inserts for rear bumper trim. SEAT offer everything to make your car ultimately yours, reflect your style.
SEAT Performance Accessories
Genuine SEAT Alloy Wheels
When it comes to wheels, there are two types to choose from - steel wheels or alloy wheels. Compared to steel wheels, alloy wheels are lighter, and they improve your vehicle's performance. The features of aluminium are rust resistance and durability, this is why alloys last longer. SEAT's alloy range allow you to choose from different colours, styles and finishes like the iconic Aneto Gloss Black, Connect Blue, Samoa Orange or Emotion Red. After investing in your custom SEAT alloys, it's smart to keep them secure, SEAT Alloy Wheel Anti Theft Bolts do exactly that.
Genuine SEAT Exhaust Options
One of the most popular tuning modifications is a performance exhaust. If you're a petrol head, then a SEAT sport exhaust is a must for your car for a number of reasons. An exhaust system adds style and enhances the performance of your car. Not only do these exhaust add an extra flair of style. Sports exhausts are free from the restrictions of standard systems. They provide a wider exit for your vehicle's gases. The result is an improvement in power and torque. Give your car a sportier tune and improved horsepower with a SEAT exhaust.
Interior accessories
If you ever plan to trade in your SEAT in the future, having a nicely kept interior will be an advantage. Genuine SEAT carpet protectors are made to fit your car perfectly, they shield the floor from scratches, dirt and spills. They make mess easier to clear up, protecting your car's condition.
Door Step
Door sill protectors are one of the smaller mods you can make to your car, there are a lot of options to choose from. They protect your car's body paint from passengers getting in and out of your vehicle and provide protections from scuffs, mud and dirt. Illuminated Door Sill Trims offer
SEAT Storage Accessories
Protective Inlays
Maintaining a well-kept interior can be advantageous if you plan to trade in your SEAT in the future. Genuine SEAT carpet protectors are made to fit your car perfectly, protecting the floor from scratches, dirt, and spills. High-edge inlays are ideal for luggage compartments, and the non-slip surface makes sure your pets are safe. Dog owners, sports enthusiasts and families alike will benefit from having a protective inlay in their boot.
Bike Rack
SEAT bike rack are great for transporting your bicycles when you're on the go. There are a few different types of bike racks available from SEAT that are all easy to use. If you intend to carry them on the back of your vehicle using a towing bracket holds up to three bikes or an overhead, theres something right
SEAT parts are a promise of quality. It's why Holders SEAT only offer genuine SEAT parts and accessories. All parts is the result of a rigorous testing process. This guarantees the excellence you expect from SEAT.
Latest News